Staying healthy and boosting immunity is not something new in concept. Also, it is not a very hard task to attempt. But, often we compromise with health for the sake of taste. However, the time has changed. COVID-19 is one of the most threatening words these days. While staying at home it's important to take care of your health and what can be better than making healthy snacks at home?
According to the research, the best way to defeat coronavirus is to eat healthily and stay healthy. Boosting one's immunity power has become the utmost need to cope with this situation. Here are some healthy recipes that help boost your immune system. We all know the ingredients of immunity build up foods but hardly convert it into a delicious dish.
Therefore, here is the change to make lip-snickering coups, salads, desserts that not only serve your health but also satisfy your tongue. Keeping the immunity system boosted start eating vitamin C, vitamin E, zinc, beta carotene in the following forms.
Make these quick healthy snacks at home –
Asian Inspired Chicken Soup
When it comes to the part of both the health and taste of a non-veg lover, what else than an oozing bowl of chicken soup can serve the best? This dish is full of immunity-boosting ingredients such as meat, cabbage, mushroom, ginger, broccoli, onion, leeks, etc. The hot and savory taste of the soup also becomes a treat for your tongue. Let's see the recipe.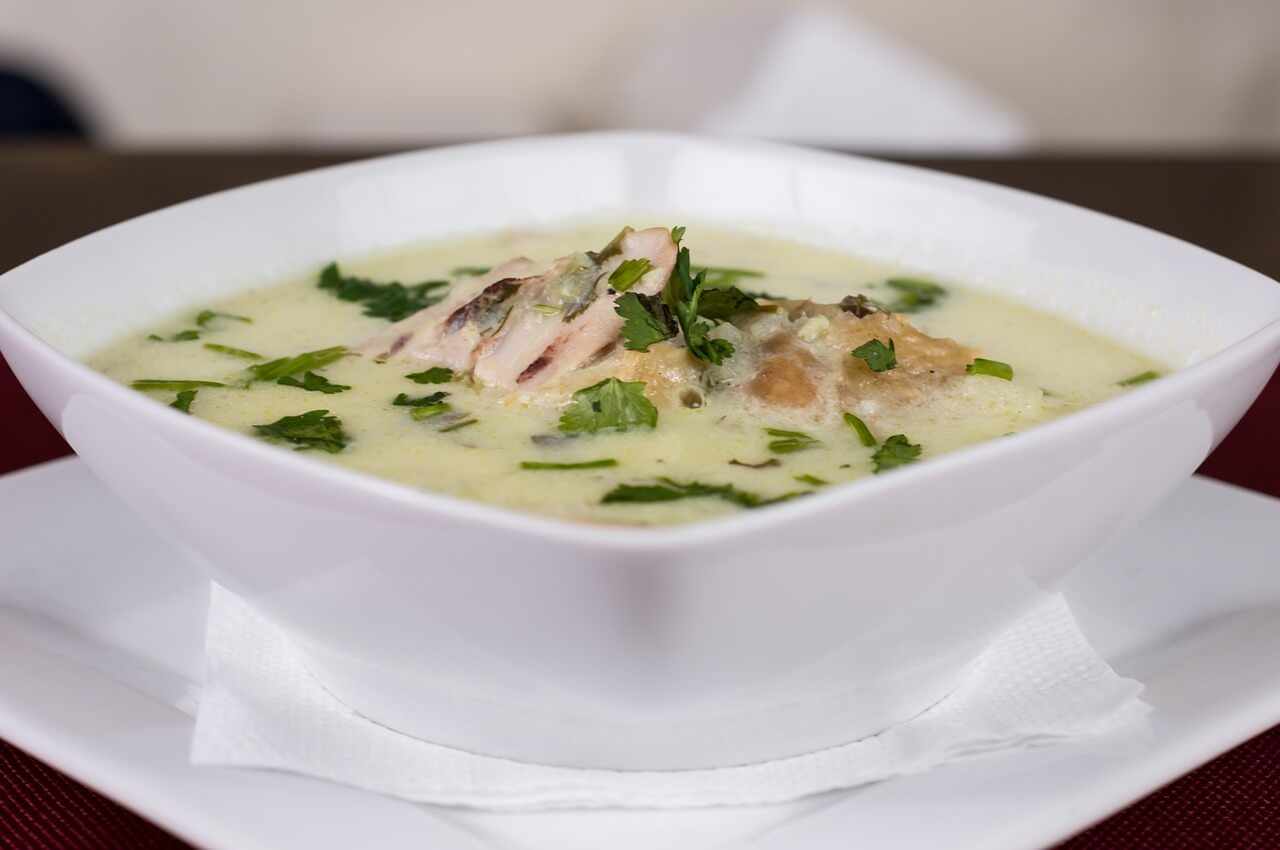 Required Ingredients:
1 to 2 cups of chopped mushroom
3 cups boiling water
1 tablespoon of canola oil or peanut oil
2 cups chopped onion
3 cloves of thinly sliced garlic
6.5 inches thick sliced and peeled fresh ginger
6 cup chicken broth
¼ cup of soya sauce
2 to 3 inches of cinnamon stick
1 whole star anise
1 tablespoon freshly ground black paper
2 pounds of boneless, chicken thighs, cut them into 1-inch pieces
1 bulb fennel, cored and cut into 1-inch pieces
8 scallions, cut into 2-inch pieces and greens chopped, divided
1 pound of bok choy, (preferably baby bok choy), white stems sliced lengthwise and greens chopped, divided
2 cups mung bean sprouts
½ cup chopped fresh cilantro
2 teaspoons toasted sesame oil
Lime wedges for garnish
Procedure for Asian Inspired Chicken Soup:
Put mushrooms in a heatproof measuring cup and put it boiling water on it. Cover it. Leave it for at least 30 minutes for soaking it. Remove the mushrooms from the water and discard the stems. Cut into the pieces and set aside. Stain the soaked water and reserve it.
Heat oil in a large soup pot and put it on medium flame. Add garlic, ginger, and onion on it. Stir fry for at least 5 minutes. Pour in the reserved mushroom liquid, chicken broth, and bok choy sauce, cinnamon stick, star anise, and black paper. Bring a boil. Reduce the simmer and stir the chicken. Simmer it for at least 20 minutes.
Stir the fennel, scallion in a different pot with the mushroom and cook it for 4 to 5 minutes. Add the bok choy stems and simmer it for 3 minutes keep stirring the bok choy greens and the bean sprouts. Cook them together until the greens are wilted.
Remove the cinnamon stick s and star anise. Pour the soup into a soup bowl. Garnish it with scallion greens, cilantro and ¼ spoon of sesame oil. Squeeze the lime juice after serving.
Apple Oatmeal
In this healthy oatmeal recipe, cooked apple makes it the healthiest breakfast in the world. Let's have the recipe.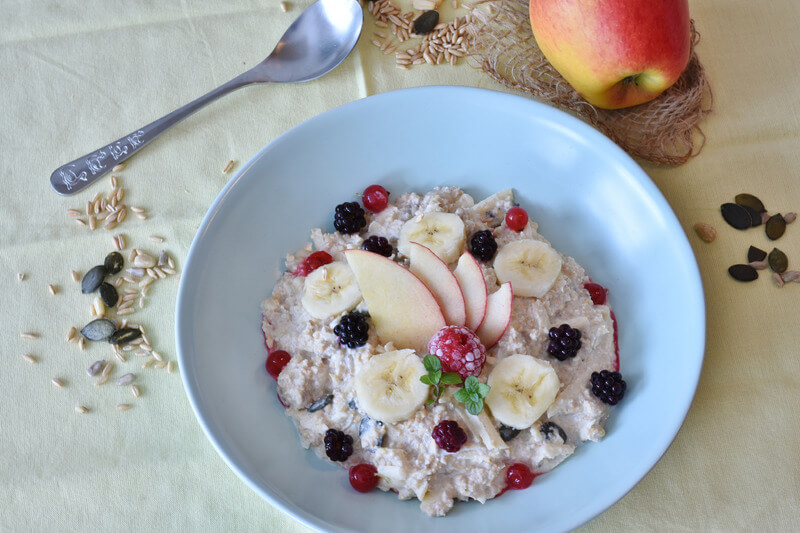 Required Ingredients:
4 medium-size crisp apples, such as Jazz or Pink Lady, divided
1 cup rolled oats
4 cups of water
3 tablespoons brown sugar
½ teaspoon ground cinnamon
¼ teaspoon salt
½ cup nonfat plain Greek yogurt
Procedure for Apple Oatmeal:
Shred 2 apples in the large holes of a grater. Leave the core behind.
Heat a large pan on medium-high heat. Add the rolled oats and stir until it becomes lightly toasted about 2 minutes. Add water and the shredded apples on it. Wait to have a boil. Reduce heat and continue cooking for 10 minutes.
Meanwhile, chop the remaining 2 apples into small cubes.
Let the oats be cooked. After that, stir chopped apples together, add 2 tablespoons brown sugar, cinnamon and salt to taste; continue cooking, stirring occasionally. Let the apples are tender and the oatmeal quite thick, 15 to 20 minutes more. Serve the oatmeal in the serving bowls. Top with 2 tablespoons yogurt and 3/4 teaspoon brown sugar.
Breakfast parfait
Here is another yummy breakfast dish to boost immunity.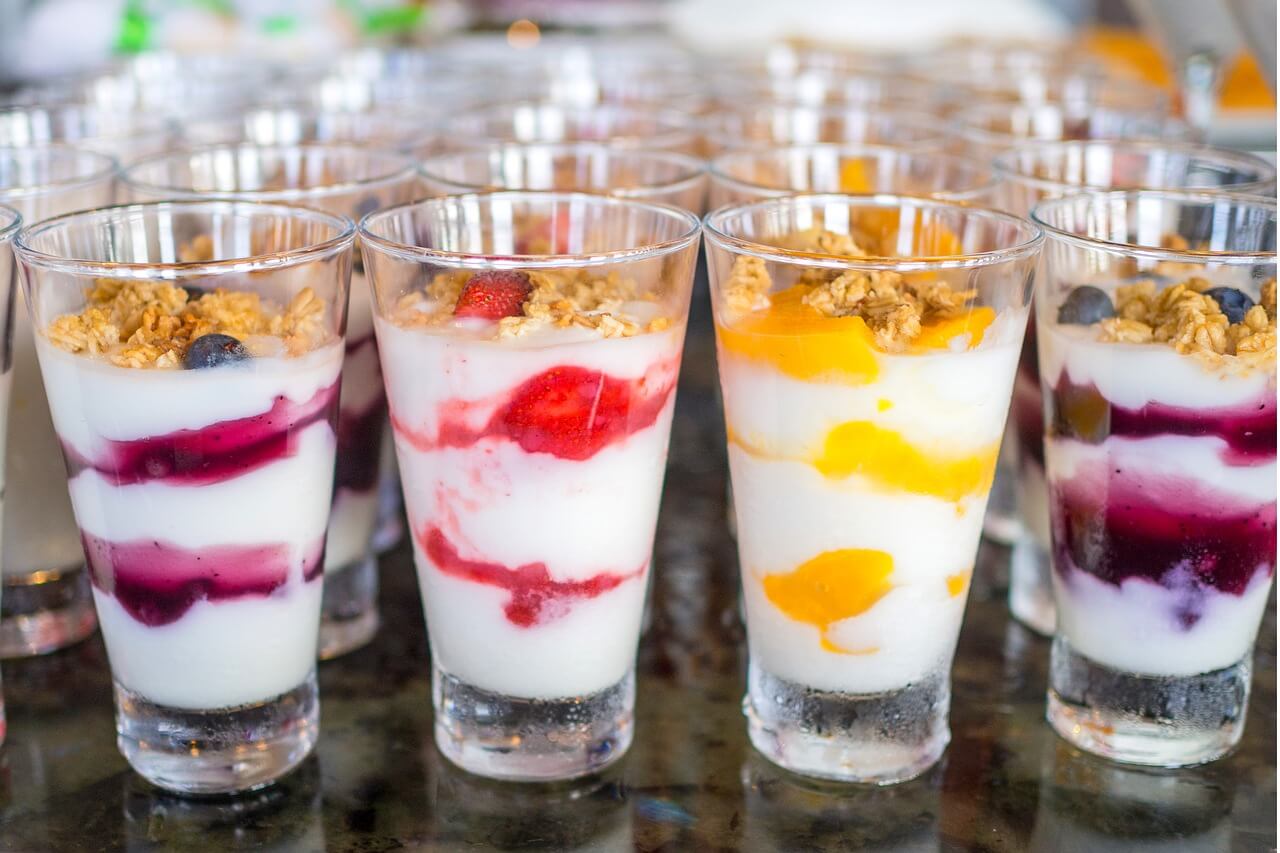 Required Ingredients:
¾ cup low-fat cottage cheese or yogurt (low fat)
1 cup pineapple chunks, papaya chunks or cling peaches
2 teaspoons toasted wheat germ
Recipe for Breakfast parfait:
Put the cottage cheese (or yogurt) in a bowl. Top with fruit and sprinkle with wheat germ.
This is a quickly made recipe with huge nutrition facts.
Per Serving you will get 247 calories; 1.6 g saturated fat; 15 mg cholesterol; 632 mg sodium. 479 mg potassium; 39.5 g carbohydrates; 3.1 g fiber; 34 g sugar; 20.3 g protein; 395 IU vitamin A; 17 mg vitamin c; 26 mcg folate; 331 mg calcium; 1 mg iron; 42 mg magnesium.
Green Tea and Mango Splash
A delicious, refreshing drink to boost energy as well as immunity.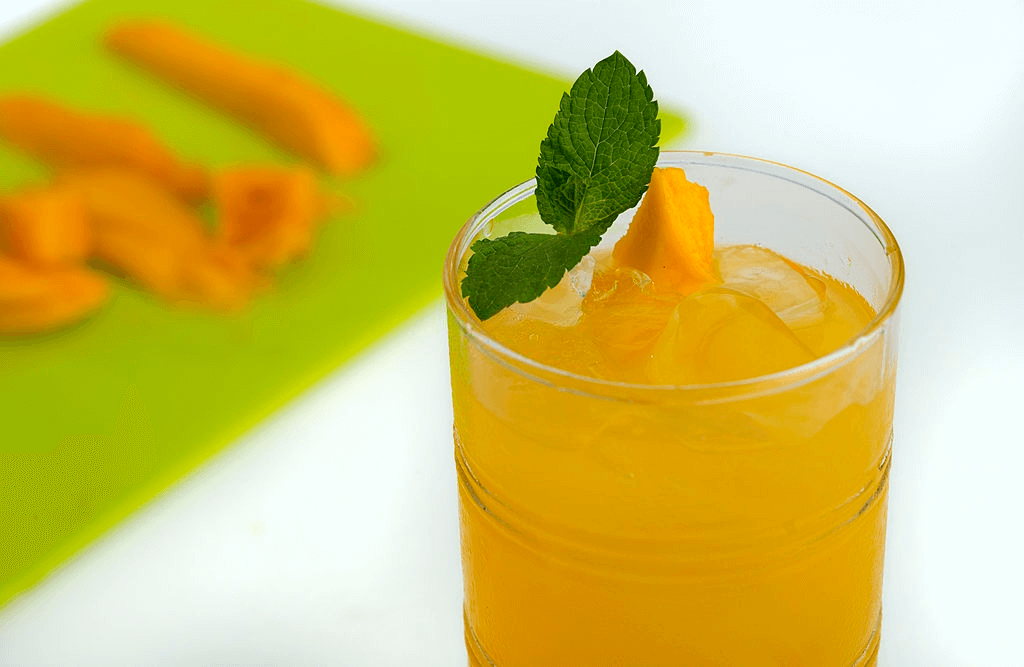 Required Ingredients:
1 cup of strongly brewed green tea, (2 tea bags to 1 cup water)
2 cups of mango nectar
Ice cubes
Mint sprigs, for garnishing
Mango slivers, for garnishing
Green Tea and Mango Splash Recipe:
Combine both the brewed tea and mango nectar in a pitcher. Serve it over ice, garnished with mint sprigs and mango slivers, this is the best in the list of quick healthy snacks at home during this lockdown.
Nutrition Facts:
Per serving you will get 97 calories; 0.2 g total fat; 4 mg sodium. 102 mg potassium; 25.3 g carbohydrates; 1.2 g fiber; 24 g sugar; 0.3 g protein; 1950 IU vitamin A; 13 mg vitamin c; 5 mcg folate; 8 mg calcium; 7 mg magnesium.
Half Hour Chili
This is truly an immunity-boosting healthy dish for vegetarians. Let's have a look at the recipe.
Required Ingredients:
1 tablespoon canola oil
3 medium chopped onions, chopped
1 chopped carrot
1 tablespoon finely chopped jalapeno or pepper
2 cloves finely chopped garlic
1-2 tablespoons chili powder
1 teaspoon ground cumin
A medium-sized tomato chopped, with juices
1 teaspoon brown sugar
¼ teaspoon salt
1 cup red kidney beans, rinsed
1/3 cup bulgur
1/2 cup no-fat plain yogurt for garnishing
1/3 cup chopped scallions for garnishing
1/4 cup chopped fresh cilantro for garnishing
Procedure for Half Hour Chili:
Heat oil on a pan oven over in medium heat. Add the ingredients onions, carrot, jalapeno, garlic, chili powder to taste and cumin. Cook, stirring occasionally until the onions and carrot become soft. Cook it for 5 to 7 minutes.
Add tomatoes with juices, sugar, and salt; cook for 5 to 6 minutes on high heat. Reduce heat to low; stir in bulgur and beans. Simmer until the chili is thickened. Do it for 15 minutes.
Garnish with a spoonful of yogurt, scallions, and cilantro on it.
I hope you have some good healthy snacks at home with their recipes that will boost your immunity, provide you with good nutrition, at the same time won't let down to your tongue. Stay home and try these. Be positive always.